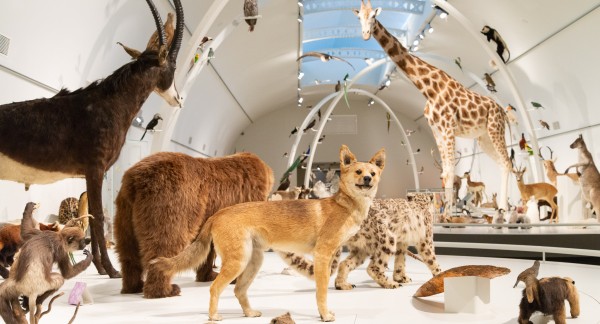 Permanent Exhibition
Living Planet
Did you know that the gnu and the zebra eat the same plants? But they don't fight about it! The gnu eats the young sprouts that are soft and juicy while the zebra chews on tougher leaves. And did you know that a thirsty camel can drink up to 150 litres of water? And that wildfires can be beneficial for some trees?
Living Planet represents more than 850 specimens displayed on 2,000m2 (from the giraffe, to the koala and the aphid), 3D models you can touch, visual media, audio interviews and interactive, recreational and educational animations. The Earth is swarming with life - rediscover it in our new Gallery, Living Planet, through an aesthetic, family-friendly and scientific approach to biodiversity.
There are also two discovery areas: the "Tetrapodium," about the skeletons of four-legged animals, and the "Arthropodium," about animals with six or more legs. There, you can peer through a microscope, observe live specimens, watch videos and 3D models, and participate in playful activities.
All ages
Approximately 2 hours
Included in the entry ticket
Points 15, 16, 17 and 18 on the map