Are you looking for a spectacular and exclusive location for your event? Whether for a scientific conference, a product launch or a gala dinner, the Institute of Natural Sciences offers you and your guests the event of a lifetime!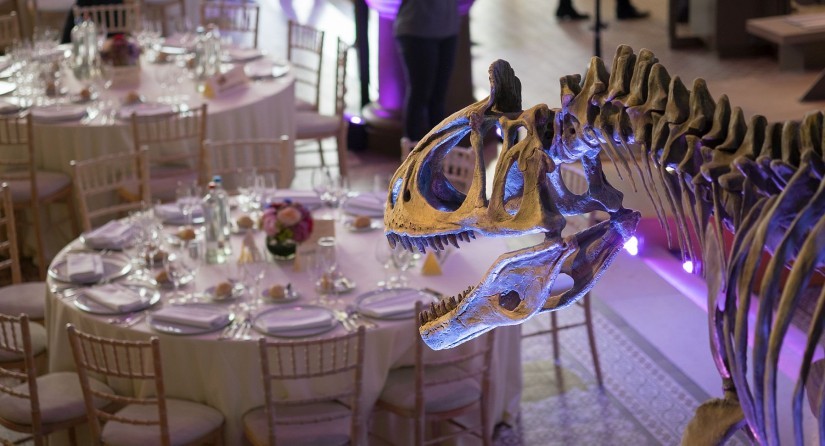 When the museum closes its doors to the public, we open again for business: we host receptions on the Dinosaur Gallery Mezzanine, organize cocktails in the BiodiverCITY Lobby, or welcome guests for a seated dinner amongst our dinosaurs.
Some clients wish to launch a new product, or impress their guests to a powerful presentation. Others ask for guided tours of some or all of our galleries and rooms. Occasionally, people ask us to open the entire museum for a walking dinner from the Gallery of Evolution on the top floor, via the Dinosaur Gallery, the Mineral Hall and the Gallery of Humankind, all the way down to the Mosasaur Hall.
Whether an intimate dinner for 15 people or a spectacular evening for 1,500 guests, the Institute of Natural Sciences makes your event unforgettable.
During daytime, our meeting rooms and auditoriums are available as well, for small business meetings or large conferences up to 150 people: we have the solution, and your participants will be thrilled to spend some working hours in our museum.
By organizing your event in the Institute of Natural Sciences and thus generating income for us, you help children to discover the museum and its collections, you contribute to the knowledge of biodiversity, and you finance new galleries and research projects.
Events and renting our rooms and galleries is an integral part of our fundraising, and can be part of your corporate social responsibility. Want to do more? Do not hesitate to contact us!
The Institute of Natural Sciences is a proud member of Brussels Special Venues, a unique concept and the only industry focused non-profit association representing 30+ exceptional event venues in Brussels.
Testimonials
When we first visited the Museum as potential venue for THIS WORKS Summit we knew we could not find a better location to fit the spirit of our event: it is a truly unconventional and creative space for gatherings, reflects our belief that innovation builds on the giants' steps, is ideally placed for EU audiences and benefits from the skills of a flexible team always ready to support in order to make your event a success!

- Laura Catana (Program Manager at Ashoka), June 2016 -
Thank you very much once again for hosting the BlueBRIDGE event at your premises. Our event participants enjoyed the Museum and were very happy to attend the BlueBRIDGE conference in such a "cool place". :) We really appreciated your support on providing us a lovely time at the Museum and helping us to solve last minute issues.
Wij zijn heel tevreden over de uitstekende organisatie, de vriendelijkheid en het professionalisme van de medewerkers, zowel gidsen als ondersteunend personeel. Het was een waar genoegen om gast te zijn in het Instituut. Vooral het diner op deze unieke locatie viel in de smaak. Onze internationale bezoekers zullen dit evenement niet snel vergeten.

- Jan De Kinder (Nationaal Instituut voor Criminalistiek en Criminologie) -
La Mezzanine de la Galerie des dinosaures est vraiment un endroit insolite pour une réception et toutes les personnes présentes, moi y compris, ont été impressionnées ! Merci pour cette collaboration !

- Mathilde Beirnaert (FAMIFED) -
Warm welcome and efficient support which helped towards the success of our flagship event : we shall return!

- F. Santini (European Commission - Joint Research Centre – IPTS Institute) -
Just a brief message to thank you for the nice collaboration in organising the event of 18 November 2015. Given the short deadlines, I think we can say that the event and its organisation have been successful.

- K. Haegeman (European Commission – Knowledge for Growth Unit KfG / DG JRC) -
We were very happy.

- PayPal -
We have had a great time at the museum

- SIOP Europe -